Lifetime Group Membership
A lifetime group membership is available to all oncology group practices, cancer centers and medical schools. Lifetime group membership includes free membership for all employed physicians, fellows, non-physician clinical staff, patient navigators and administrative staff. Lifetime group members do not pay annual membership dues, nor registration fees to attend GASCO meetings.
An employee's lifetime group membership is valid for as long as they remain employed by the lifetime group member. Should they leave their employment with the lifetime group member, they will need to contact GASCO to convert their membership to an annual dues paying or individual lifetime membership.
The cost for a hematology/oncology related practice to become a lifetime group member of GASCO is $3,000. For hospitals or health systems who wish to enroll their hematology/oncology clinical and administrative employees working in multiple locations, the cost of lifetime group membership is $3,000 per hospital location up to a maximum of $21,000.
If you are interested in a GASCO lifetime group membership, please contact GASCO at 770-951-1018 or e-mail membership@gasco.us.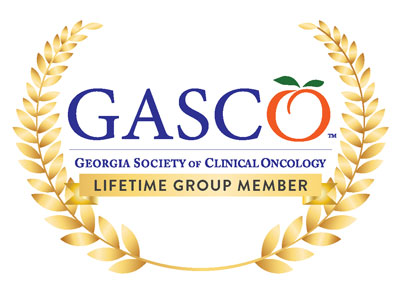 GASCO Lifetime Group Members
Atlanta Cancer Care
Augusta University
Central Georgia Cancer Care
City of Hope Atlanta
Emory Healthcare/Winship Cancer Institute of Emory University
Georgia Cancer Specialists
Grady Health System/Georgia Cancer Center for Excellence
Harbin Clinic
Morehouse School of Medicine
Nancy J. and J.C. Lewis Cancer & Research Pavilion
Northside Hospital Cancer Institute
Northwest Georgia Oncology Centers
Phoebe Oncology Service Line
Piedmont Cancer Institute
Suburban Hematology & Oncology Associates
Summit Cancer Care
University Cancer & Blood Center
Wellstar Cancer Network
*Individual lifetime membership is also available for a one-time cost of $250.00.