Past Meeting Slides
2022 GASCO Annual Meeting & ASCO Direct™ Highlights and Beyond
GASCO's 2022 Annual Meeting & ASCO Direct™ Highlights and Beyond took place August 26th-27th, at Loews Atlanta Hotel. At the conclusion of Friday's sessions, Karen Beard, GASCO Director, was honored by Dr. Frederick Schell and GASCO Board members and attendees for her many years of outstanding dedication and service to GASCO. Her time and efforts have made a vast difference within Georgia's cancer care community.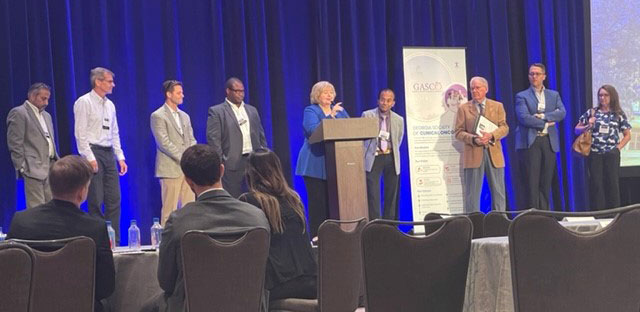 Joining Mrs. Beard on stage (from left to right) were the following GASCO Board members:
Sharad Ghamande, MD, Augusta University and GASCO President
Christopher Hagenstad, MD, NHCI/Suburban Hematology-Oncology Associates
Crain Garrot, MD, Georgia Cancer Specialists, GASCO Immediate Past President
Bradley Carthon, MD, PhD, Winship Cancer Institute of Emory University
Karen Beard, GASCO Director
Chirag Jani, MD, Phoebe Cancer Center, GASCO Vice President/President-Elect
Frederick Schnell, MD, Chief Medical Officer, Community Oncology Alliance, Emeritus GASCO Board Member
Gregory Harris, DO, Harbin Clinic
Alison (Ali) Spellman, MD, Summit Cancer Care
---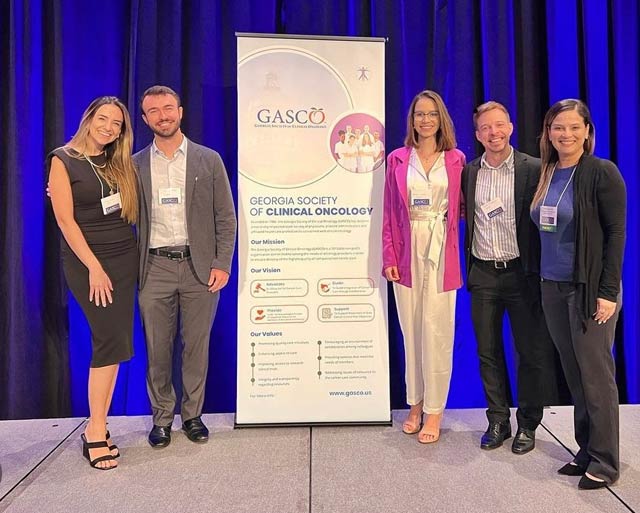 GASCO was pleased to welcome visiting oncologists from Rio de Janeiro, Brazil. The visiting physicians are pictured here with Dr. Ticiana Leal, Director, Thoracic Medical Oncology Program, Department of Hematology and Medical Oncology at Emory University School of Medicine.
From left to right:
Dr. Leticia Quinane
Dr. Daniel Musse
Dr. Bethania Santos
Dr. Pedro Bergmann
Dr. Ticiana Leal
2022 GASCO Administration and Business of Oncology Meeting
Photos from the "Taste of the Islands Reception"
2018 Practice Management & Business of Oncology Meeting - June 15-16, 2018
2017 San Antonio Breast Cancer Symposium Review Slides - January 6, 2018
2017 Annual Meeting Presentation Slides - September 8-9, 2017
2016 San Antonio Breast Cancer Symposium Review Slides - January 9, 2017
2016 Administrators' Association Slides - March 11 - 12, 2016
2015 San Antonio Breast Cancer Symposium Review Slides - January 9, 2016
2015 Administrators' Association Slides - March 6 - 7, 2015
2014 San Antonio Breast Cancer Symposium Review Slides - January 10, 2015
2014 Annual Meeting Presentation Slides
September 6th -Best of ASCO® - a program licensed by the American Society of Clinical Oncology®
2014 Administrators' Association Slides - May 2 - 3, 2014
2013 Annual Meeting Presentation Slides
September 6th
September 7th - Best of ASCO® - a program licensed by the American Society of Clinical Oncology®
2013 Administrators' Association Slides - May 3 - 4, 2013
2012 Annual Meeting Presentation Slides
September 7th - Business of Oncology
September 8th -Best of ASCO® - a program licensed by the American Society of Clinical Oncology®
September 8th - Administrator Track
September 8th - Patient Navigators Track
2012 Administrators' Association Meeting Slides
2011 San Antonio Breast Cancer Highlights Slides
2011 GASCO Annual Meeting Presentation Slides
August 26th - Business of Oncology
August 27th - GASCO's Best of ASCO® - a program licensed by the American Society of Clinical Oncology®
August 27th - Administrator Track
August 27th- Patient Navigator Track