Georgia CORE's 20th Anniversary Gala
Meeting Host
Georgia CORE
Description
When
Saturday, February 18, 2023 • 6:00 p.m.
Where
Atlanta History Center
130 West Paces Ferry Road, NW
Atlanta, GA 30305
A Toast to the Trailblazers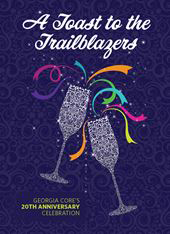 20 years ago, several Georgia visionaries launched a novel nonprofit to unite medical professionals, researchers, and organizations in Georgia's fight against cancer. These trailblazers gave rise to the enterprise that is now Georgia CORE. And ever since, this alliance of Georgia's oncology community, state leaders, scientists, philanthropists - and many others - have worked for one purpose: Create new paths to better cancer care for all Georgians. We now celebrate this magnificent effort - and all of the extraordinary individuals who have taken up the fight - in an evening to remember.
All proceeds from "A Toast to the Trailblazers" will help provide cancer screenings, free of charge, to under-resourced Georgians (via Georgia CORE's "Fight Cancer" License Plate Fund)!
Announcing Georgia CORE's Trailblazers
Georgia CORE is celebrating its 20th anniversary in 2023, and as part of the celebration, is honoring individuals who blazed the trail to create and sustain Georgia's innovative, collaborative, and patient-centered cancer ecosystem.